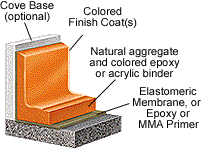 Versatile / Chemical Resistant / Trowel Applied / Slip-Resistant / UV-Stable / Abrasion Resistant
When your flooring project requires fast curing and/or application in cold temperatures (interior or exterior), Cryl-A-Flex™ Methyl Methacrylate (MMA) systems set the standard for performance.
Featuring strength with flexibility, these VOC compliant, 100% solids reactive resins with select graded fillers form a highly versatile seamless flooring solution. Offering excellent resistance to acids and alkali, Cryl-A-Flex™ systems are UV stable and cure to an appealing, low-glare satin finish.
Cryl-A-Flex™ components are easy-handling and cure in less than one hour. These premium flooring systems feature a Cryl-A-Prime™ prime coat and a Cryl-A-Glaze™ or Cryl-A-Glaze FX™ binder. A topcoat of Cryl-A-Top™ or Cryl-A-Top CTR™ completes the system.
Acrylics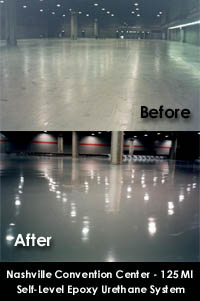 Cryl-A-Quartz™
The acrylic counterpart to our top-selling Dur-A-Quartz™ decorative epoxy resurfacer, Cryl-A-Quartz™ uses the same premium Dur-A-Flex™ Q11 and Q28 multi-color quartz aggregate, broadcast applied into Cryl-A-Glaze™ resin. This system cures to form a durable non-yellowing, non-chalking surface.
Cryl-A-Floor™
This industrial-strength solid-color flooring system uses Cryl-A-Glaze™ resin and natural, graded quartz sand to form an abrasion-resistant monolithic surface.
Cryl-A-Chip™
An affordable flooring solution combining Cryl-A-Glaze™ resin and multi colored random chips.
Cryl-A-Tex™
Polymer Concrete
This acrylic (MMA) polymer concrete matrix can be used as a mortar or for pothole and spall repair when "filled" with pea gravel. It consists of a Cryl-A-Tex™ resin and select graded aggregates. This system cures to full strength in one hour.

Textures - standard slip-resistant, orange peel, and smooth
Performance Topcoats - Cryl-A-Flex™ systems are topcoated with Cryl-A-Top™ CTR for most applications or Cryl-A-Top™ Regular, for increased thermal shock resistance.
Special Formulations - Cryl-A-Glaze FX™, a true indoor/outdoor system formulated for areas with extreme temperature fluctuation.
Color: Standard Cryl-A-Flex™ pigments and aggregate colors. Custom colors available upon request.
Applications Include:
Kitchens

Warehouses

Laboratories

Freezers

Meat Packing Plants

Sidewalks

Pharmaceutical

Machine Shops

Chemical Storage Facilities

Food Processing Plants

Radio and Television Studios

Parking Decks