If your goal is to provide a "Greener" building project, we have the flooring solutions to assist you in LEED certification.

Our ECO-RWS is a unique sustainable floor system that reduces environmental impact, and overall operating cost. For new construction or rehab projects, ECO-RWS is designed to deliver an attractive, durable wear surface over a wide range of substrates.
The system is designed to abridge existing substrate degradation, negating the need to install costly Underlayment, typically needed on rehab projects.

With no seams or joints to collect dirt and bacteria, ECO-RWS is safer and easy to maintain. Available with antimicrobial properties, and variable degrees of slip resistance, it is ideal for a broad range of applications.
We are very excited about the offering of this unique product and its environmental impact.
In addition to the natural Black Walnut with its unique patina, we also can color enhance the system for a unique color scheme.
This is a very exciting floor system, unparalleled in the industry.
---
ECO-RWS
Description: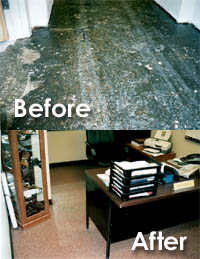 ECO-RWS is a seamless fluid applied decorative flooring system comprised of recycled walnut shells and VOC compliant polymers. The system is designed to create an aesthetically pleasing wear surface that is extremely durable with a wide range of finish textures.
Exceptional benefits of the system are the LEED contributions, such as:
Recycled content
VOC-Green seal compliant
Life cycle Cost - low maintenance
Innovation and sustainability
Renewable natural resource
ECO-RWS can be installed over a variety of substrates such as concrete, plywood, VCT, and tile. The system is uniquely suited for a wide range of applications.
Teh finished system provides a seamless, non-porous surface that has excellent abrasion and chemical resistance. Custom finish textures allow applications in a broad range of environments to meet any coeffient of friction needed.
The recycled walnut shells yield a natural patina that is unique to hardwoods. For both new construction and rehab projects, the applications are only limited by your imagination.
Benefits:
Green recycled content
VOC compliant
Decorative multi-use application
Variable degrees of finish textures
Excellent abrasion and chemical resistant
Seamless - no joints or seams
Fast low impact installations
Unique appearance
Typical Uses:
Retail - Breakrooms
Hospitals - Corporate
Schools - Rec-Centers
Lobbies - Lofts
Corridors - Galleries
Restaurants - Manufacturing
---
Fuller Industries, Inc. offers a broad range of flooring systems that contributes to Architects and specifiers earning LEEDS credit.
In addition to meeting the Green Seal Standard for floor coatings that do not exceed 100g/l, we have many systems comprised of zero VOC polymers.
We are very pleased to bring to your attention our newest eco-friendly decorative wear surface. Based on natural recycled raw materials and VOC compliant technology, for new construction and major renovations.
Potential LEED Credit Categories:
MR Credit 4.1 - 1 point
MR Credit 4.2 - 1 point
MR Credit 5.1 - 1 point
MR Credit 5.2 - 1 point
MR Credit 6 - 1 point
MR Credit 7 - 1 point
EQ Credit 4.2 - 1 point
ID Credit 1-1.4 - 1-4 points
Our floor systems are designed to deliver excellent mechanical and chemical resistance that result in a long service life. Our customers benefit from a history of successful installations, derived from innovative technology; that provide long term solutions.
This system is an excellent choice for a wide spectrum of environments for LEED projects.
We welcome the opportunity to discuss in greater depth our seamless flooring solutions for any projects requiring LEED credit participation.
**Compiled from LEED-NC Version 2.2