Formulated to withstand aggressive chemical and thermal attack, Poly-Crete is the answer for the most abusive environments. Our urethane based system is a heavy duty seamless resurfacer that provides exceptional durability and service.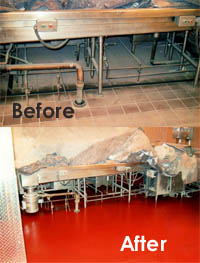 Ideal for restoration, repair or new construction, Poly-Crete:
Bonds permanently to most any type of sound substrate including concrete, quarry tile, brick pavers and plywood.
Installs easily as a self-level system or by trowel method in thicknesses of 3/16" to 3/8".
Cures quickly for minimal down time.
We know each floor installation provides its own set of unique circumstances. That's why we have created different versions of our super tough Poly-Crete system:
Poly-Crete HF - Our trowel applied cementitious urethane version of Poly-Crete is applied in thicknesses ranging from a 1/4" - 3/8". Ideal for food processing areas, commericial kitchens and bottling lines - just to name a few. Poly-Crete HF not only stands up to grease, alkalis, food and mineral acids - it can take the heat too! Whether it is thermal shock from spills, high temperature wash downs or the need for high service temperatures - Poly-Crete HF performs. Down-time? No problem. Moisture tolerant and designed to get you back up and running quickly. Poly-Crete HF is designed to meet the demands of your operation.
Colors: Red and grey.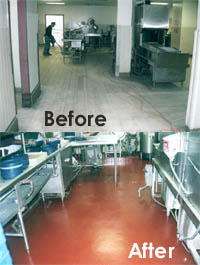 Poly-Crete KT - A 100% solids, aromatic self leveling version of Poly-Crete. The urethane components and natural quartz broadcast produces a very durable yet good looking floor system ranging from 3/16" - 1/4" thick. Poly-Crete KT provides the same superior performance as its trowel applied relative but with a more decorative look, enhanced impact resistance and the added versatility of a self leveling application.
Poly-Crete MD - This 100% solids, aromatic cementitious urethane system is blended with graded silica and fine fillers to produce a self leveling matte finish of uniform color.
Colors: Grey, concrete grey, red and cream
Poly-Crete MDB - This is our 100% solids, aromatic cementitious urethane system with a broadcast aggregate. Poly-crete MDB uses a natural quartz aggregate and is available in 6 gloss resin topcoats.
Colors: Beige, light brown, black, charcoal, concrete grey, medium grey, slate grey, tile red.
Applications Include:
Pharmaceutical Plants
Food Processing Plants
Meat Packing Plants
Manufacturing Plants
Laboratories
Kitchens
Research and Clean Rooms
Animal Shelters
Supermarkets
Shower/Locker Rooms
Cafeterias
Garage/Service Areas
Detention Facilities
Schools
Hallways/Corridors