Seamless / Shock Absorbing / Waterproof / Vibration Damping / Stress Relieving
Wherever secondary containment or the reduction of stress between the substrate and subsequent coatings or resurfacers is a concern, application of a waterproofing membrane significantly improves performance. Unlike other systems which rely on additional reinforcing fabrics, the Dur-A-Flex™ Elast-O-Coat™ membrane resists tearing or splitting if a substrate cracks. These coatings resist abrasion and offer very good resistance to salt, oil, gasoline, and detergents.
Epoxies
Elast-O-Coat™
Waterproof Membrane
This two-part 100% solids elastomer-modified epoxy can be used with or without a primer coat to form a waterproof-layer that also protects overlying layers from stress and crack transmission, while helping to dampen vibration. Elast-O-Coat™ conforms to virtually any shape or contour and can be applied by brush, paint roller, trowel or squeegee.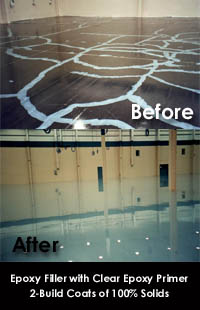 Color: Clear. Can be tinted with any standard color.
Applications Include:
Secondary Containment

Medical Research Labs

Drum Storage Areas

Mechanical Rooms

Potable Water Storage

Washrooms

Shower Rooms

Animal Housing Areas

Cagewash Areas

Wet Processing Areas