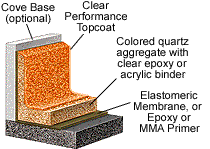 You may require several different systems in your facility and Fuller Industries, Inc. has the "flexibility" to give you exactly what you need. Our material source's allows us to deliver the most comprehensive high quality products available. Whether it's a thin film coating for a warehouse or a heavy duty Quartz floor in a O.R. suite, we have the right system/solution.
Our decorative seamless wear surface's are an excellent choice for both new and rehab projects. In most cases our systems can be installed directly over hard tile, ceramic tile VCT, Sheet Vinyl, plywood and other substrates. Typically only increasing existing surface elevations by 3/16" to 1/4." This negates a lot of costly demo and disposal costs, not to mention time and labor savings.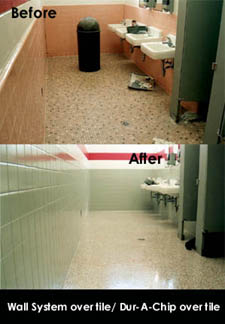 Our systems meet USDA, OSHA, FDA and NSF requirements.
Our complete line of top industry performers will make your environment more attractive, more sanitary, and more chemical resistant. Broadcast or trowel applied, Fuller Industries, Inc. flooring systems install and cure rapidly for a short "down-time" period.
Epoxies
Dur-A-Quartz™
Deluxe multi-colored quartz aggregate fused with clear 100% solids epoxy for moderate resistance to solvents, acids and other chemicals. The top-choice for decorative flooring applications. Available in two grades-Q28, fine and Q11, coarse-for broadcast and trowel application.


Q11 Q28
Shop-Floor™


Natural quartz aggregate and pigmented Dur-A-Glaze™ Shop-Floor™ epoxy, make this the affordable industrial resurfacer. An opaque, monolithic surface hides imperfections and stands up to abuse.
Q11 Q28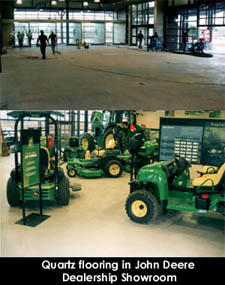 Textures - standard slip-resistant, orange peel, and smooth
Performance Topcoats - Poly-Thane ™ chemical-resistant, UV-stable, abrasion-resistant topcoats are available in high-gloss, low-glare satin, or flat.
Special Formulations - Bio-Pruf® anti microbial treatment, Dur-A-Glaze™ Novolac™ chemical- and heat-resistant coating, and Dur-A-Glaze™ Kitchen Formula.
Color: A broad range of solid colors, multi-colored blends and custom colors.
Applications Include: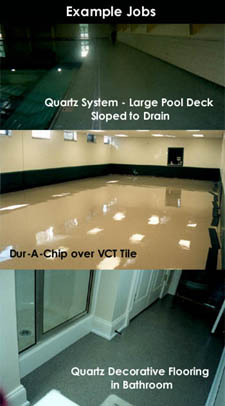 Kitchens
Laboratories
Manufacturing Plants
Pharmaceutical Plants
Research & Clean Rooms
Cafeterias
Restrooms
Operating Suites
Clean Rooms
Animal Shelters
Shower/Locker Rooms
Correctional Facilities
Supermarkets
Food Processing Plants
Garage/Service Areas
Corridors
Hydro-Therapy
Pool Decks