Fully Customizable High Performance Coatings Systems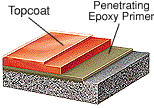 Our complete line of coating systems range in applied thicknesses from 10 to 125 mls. determined according to specific needs/requirements. Coating systems deliver chemical and abrasion resistance with a variety of finish textures, including high gloss or satin.
Improves light reflectance and facility aesthetics
Abrasion, chemical and impact resistance
Variety of color selections
Easy to maintain seamless surface
Fast cure formulations
Low VOC - Compliance
Low to No odor systems
Slip resistant finishes for wet areas
Custom logos or design elements
Epoxies
Dur-A-Glaze #4™
Our mainstay product and one of the most tested and versatile epoxies on the market, Dur-A-Glaze #4® functions primarily as a matrix component and aggregate binder for Dur-A-Quartz™, Shop Floor™, and Dur-A-Crete™ systems. Over a layer of Dur-A-Shield™ primer/sealer, two coats of Dur-A-Glaze #4® complete a popular large-scale flooring system. The most advanced product of its kind, this clear two-component liquid formulation of 100% solids epoxy resins, gives you optimum hardness with impact and vibration resistance. Dur-A-Glaze #4® special purpose formulations include "FAST" (cures to "touch dry" in 2-3 hours) and "COLD CURE" (for sub 50° F temperatures).

The rest of the Dur-A-Glaze® product family offers specific advantages for a wide variety of situations and are the superior choices in their categories:
Dur-A-Glaze #4 Cr-4™
When you need more than just a chemical resistant topcoat, you can formulate chemical resistance throughout the matrix layer with CR-4 for maximum protection from solvents, organic and inorganic compounds, and caustics. Together with a Dur-A-Flex® Polythane #1™ Performance Topcoat, this combination offers you the highest level of performance.
Dur-A-Glaze Novolac™
The industry standard for corrosion resistance where high-heat resistance is also required. Novolac™is also specified as a performance topcoat where 100% solids no-VOC compounds are desired.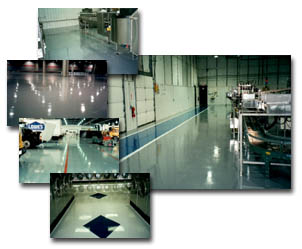 Applications Include:
Chemical Storage Warehouses

Citrus Juice Plants

Metal Plating and Pickling Rooms

Acid Cleaning Bath Areas

Battery Charging Rooms

Pulp and Paper Mills

Waste Treatment Plants

Sugar Refineries
Dur-A-Flex® Epoxy Flooring with Bio-Pruf®
Anti microbial Treatment
For long-term protection from a broad spectrum of bacteria and fungus, you can specify Bio-Pruf® with any Dur-A-Flex® 100% solids epoxy coating. Bio-Pruf® inhibits growth of germ and odor causing microorganisms-an ideal solution for bathrooms, showers, locker rooms, and swimming pool decks.
Dur-A-Gard™ "No Sag"
This special formulation prevents the coating from running when applied to vertical surfaces and features an extended pot life to increase working time.
Color: Standard Dur-A-Gard™colors; custom colors and color matches available.
Applications Include:
Laboratories

Light Manufacturing

Warehouses

Laundries

Marine Uses

Clean Rooms
DUR-A-WALL/FGR/VC Wall Systems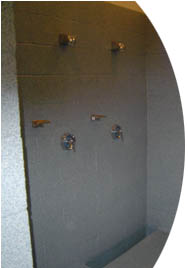 For functional wall systems that are ideally suited for concrete, wood, drywall or block, our wall systems deliver all the characteristics you want most in commercial/industrial applications.
Our wall systems prevent the penetration of moisture from cleaning and wash downs. No joints or seams mean no moisture to harbor mold and bacteria. In many wall applications, impact resistance is critical, and through soft and hard body impact testing, we found that our systems offer a higher level of impact resistance. When compared to latex or alkyd paint, our wall systems will outlast and outperform them all.
All wall systems are resistant to most common chemicals and each system meets or exceeds USDA, and FDA requirements.
For the perfect fit to your specific environment, we have created three versions of our Wall systems: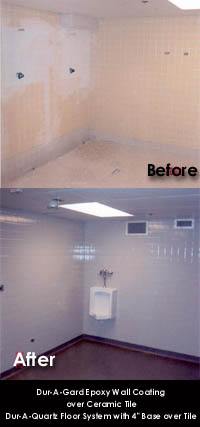 Dur-A-Wall - a high build, pigmented, epoxy wall system.
Dur-A-Wall FGR - a high build, pigmented fiberglass reinforced epoxy wall system.
Dur-A-Wall VC - a high build, decorative chip epoxy wall system.
The Dur-A-Wall and Dur-A-Wall FGR systems are available in standard and custom colors to fit your special requirements. The Dur-A-Wall VC system is available in MICRO and MACRO chip color blends. The high performance topcoats for these systems are UV stable, chemical resistant, non-ambering and abrasion resistant. The wall systems can be further enhanced with the Bio-Pruf® Antimicrobial treatment to help combat bacteria and prevent microorganisms from damaging the system. Each system is a two-component, low odor 100% thermosetting epoxy formulation. The Dur-A-Flex wall systems are easy to install and are formulated to cure and harden quickly, therefore reducing down time.
Our wall systems are as durable as they are decorative. They provide the added benefit of having a seamless, stain resistant wall with a gloss or satin finish.
Applications:
Animal Research
Hospitals
Clean Rooms
Laboratories
Pharmaceutical Plants
Hallways/Corridors
Food Processing
Schools